Recall Products Purchased in US
Recall Products Purchased in Canada

Health Canada – Recall
Voluntary Recall of 2019 Christmas Trees with Foot-Pedal Controllers Manufactured by Willis Electric and Sold at Home Depot Stores
Recall Summary: Certain models of artificial Christmas trees made by Willis Electric in 2019 and sold at Home Depot stores, have foot-pedal controllers that may overheat, posing a serious hazard. The controllers are subject to a voluntary Health Canada recall, and consumers should immediately stop using the original controller and replace it with a new controller provided by Willis Electric.

Recall Release Number and Date: RA-73581, July 23, 2020.

Link to Recall Press Release: Health Canada Recall Press Release

Name of Product: Home Accents Holiday artificial Christmas trees with foot-pedal controllers.

Hazard: The Christmas tree's foot-pedal controller can overheat and pose a hazard to persons and property.

Remedy: Replace the foot-pedal controller that connects to the tree and controls the lights.


Consumers should immediately stop using the foot-pedal controller, dispose of it in accordance with local regulations, and contact Willis Electric online or at the number below for a free replacement foot-pedal controller.
Consumer Contact: Click on this link: Replacement Controller Request to request a replacement controller be sent to you at no charge. Alternatively, or if you have questions, call Willis Electric toll-free at 866-210-5958 from 8 a.m. to 5 p.m. ET Monday through Friday.

Description:
This recall involves mode-switching foot-pedal controllers included with 2019 Home Accent Holiday 7.5 ft. and 9 ft. artificial pine Christmas trees WITH MODEL and SKU NUMBERS that can be found on the product label, which are listed in the following table:
| | |
| --- | --- |
| Model No. | SKU No. |
| W14N0128 | 1001343443 |
| W14N0155 | 1001344022 |
| W14N0152 | 1001344021 |
This recall does not apply to any trees other than those manufactured and sold in 2019 and that have the model numbers and SKU numbers listed in the table above. If your tree has one of the model numbers listed in the table above, but has a different SKU number other than one of those listed in the table, it is not subject to the recall.

An example of the product label that is located on the cord of the tree and that identifies the Model No. and SKU No. is below (circled in red):

Handheld Remote Control Device: Note that a new handheld remote control device will be provided with the new replacement controller. You should dispose of the old remote controller and use the new handheld remote control device.

Link to Frequently-Asked Questions: Canada Recall FAQs

Additional Product Photos: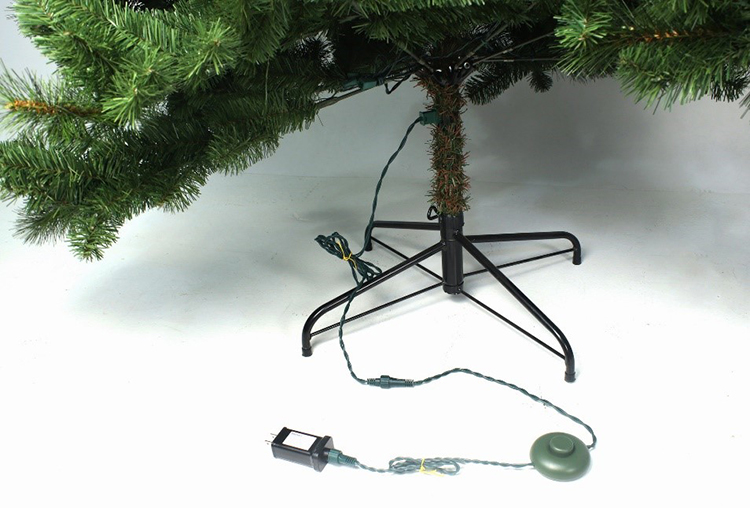 Recalled foot pedal controller and adapter with Christmas tree (note that the tree and the adapter are not subject to the recall and do not require replacement)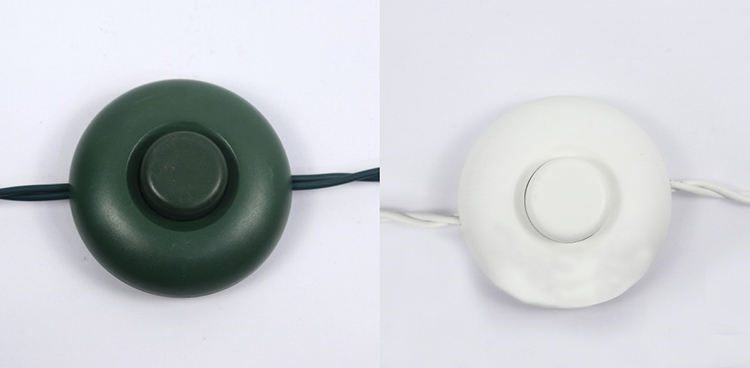 Recalled foot-pedal controller (manufactured in green and white colors)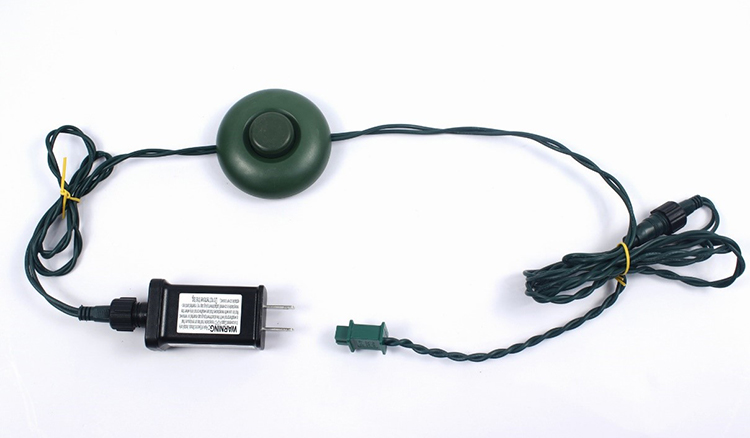 Recalled foot-pedal controller and power adapter